A world of inspiration
Pacojet recipes
The world of Pacojet recipes offers you lots of ideas and inspiration for unleashing the full potential of your Pacojet.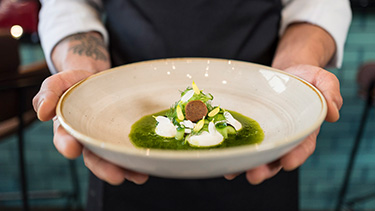 One system, many applications
Herb and walnut cream cheese on crackers as a canapé. Macarons with raspberry ganache as a greeting from the kitchen. Cucumber broth as an appetizer, rack of lamb with a herb crust for the main course, and mango sorbet for dessert in an à-la-carte restaurant. Pesto for take-out businesses.
With Pacojet, you can prepare a wide range of menu components. That's because this unique cooking system is highly versatile, offering you virtually limitless applications. And every dish is guaranteed to be sheer perfection. Bring that je ne sais quoi to your dishes and unleash your creativity!
Pacojet application examples